Messaging apps, like WhatsApp, are convenient since they allow you to exchange quick texts with your contacts. However, if you notice that your husband is spending too much time on the app, it might be a bit suspicious. In this case, you much know how to catch a cheating husband on WhatsApp so that you can confront him.
In this article, you will learn the signs that indicate that your spouse is hiding something from you. Moreover, you will discover how he can use WhatsApp to cheat on you, and the best way to uncover his infidelity.
Part 1. How to Know Your Husband Might Be Cheating You?
Before you learn how to catch a cheating husband on WhatsApp, you must notice his behavior. If you see any of the following signs, then there is a high chance that your spouse might be talking to another woman on the messaging app. These signs are:
His online status on WhatsApp has increased – a sure sign that your husband is talking to someone on the messaging app is that he spends much more time on it. If you notice that his online status has increased, then you need to be suspicious of him. Of course, this might be because he's busy with work and he needs to talk with his clients or colleagues. 
He is active on WhatsApp when he shouldn't be – another sign that indicates suspicious behavior is when your spouse is online on WhatsApp at weird hours. For example, he might appear online late at night when he should be sleeping, or during the morning when he should be working.
He seems happier when he is chatting on WhatsApp – one more behavior that might signify an affair is if your husband's mood is changing whenever he receives a text on WhatsApp. If he has found a girlfriend, then he will seem happy when he's exchanging texts with her. Therefore, if you notice that he blushes, laughs, or feels agitated, then you should be suspicious.  
He has changed his screen passcode – Another sign that your husband might be cheating is if he has changed his screen passcode. This small action shows that he wants to keep you away from his phone, meaning that he has something to hide.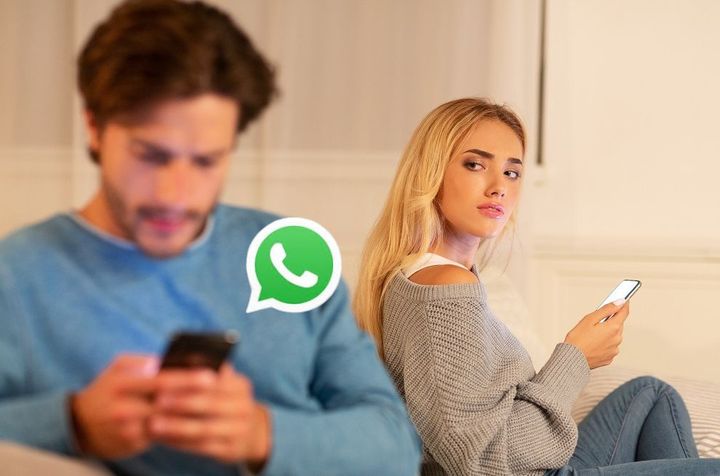 Part 2. How Will a Cheating Husband Do with WhatsApp?
All of the above signs should make you suspicious of your husband. In fact, it is very easy for him to cheat on you via WhatsApp. Knowing these will also help you catch your husband if he is cheating on you. The most common ways with which he can manage to do that are:
He can create multiple WhatsApp accounts – one way that your husband is using to cheat on you on WhatsApp is to create multiple accounts. Of course, this means that he has also obtained another phone number. If that's the case, then he can use one account to cheat on you without you noticing.
He can change his contacts' names – another way to do that is to rename his suspicious contacts. For example, he can change the names into male ones or use mysterious symbols.
He can delete his text and call history – another way that your husband can use to cheat you is to wipe his messaging apps clean to hide his text and call history. Therefore, if he takes the time to empty his WhatsApp logs, he definitely has something to hide.
Part 3. How to Catch a Cheating Husband on WhatsApp
If you are determined to find the truth, you must learn how to catch a cheating husband on WhatsApp. KidsGuard for WhatsApp is an application that allows you to do this in a few simple steps.
What's so amazing about this tool is that it remains totally undetected, and your husband will not see a login alert. Moreover, it runs in the background in stealth mode, meaning that you will be able to monitor his activity unnoticed. And to top things up, KidsGuard for WhatsApp works on every Android device, even when you don't know your spouse's WhatsApp password.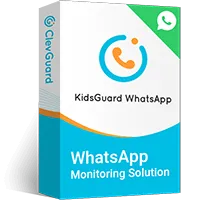 KidsGuard for WhatsApp – All-around Remote WhatsApp Tracker
View 10+ WhatsApp data, such as messages, photos, videos, call history, even if the chats are deleted.
Monitor your cheating husband's WhatsApp in real-time.
Capture a screenshot of the current screen.
You can export all data you have monitored to serve as evidence.
These are the steps to use KidsGuard for WhatsApp to uncover your husband's infidelity:
Sign up by clicking the button below. Then purchase a plan to start with the premium service.
Go to www.installapk.net to download KidsGuard for WhatsApp on the target Android device.

Install and complete necessary settings by following the on-screen prompt.

After that, go to clevguard.org and sign in to your account. Then on the My Product tab, you will see KidsGuard for WhatsApp. Click the Dashboard icon and bind your device there.
Click Verify Setup, then you can start tracking your husband's WhatsApp now.
Part 4. Track a Cheating Husband on WhatsApp Web
Another way to spy on your cheating partner is to use WhatsApp Web. With this method, you can access your husband's WhatsApp from your computer. This web-based version of WhatsApp is very convenient since it loads the account's history.
However, it might not be the best way to catch a cheating husband on WhatsApp due to its limitations. To use WhatsApp Web, you need to know the account's password and get a hold of your spouse's phone. Moreover, you won't be able to view the deleted history, which might not make you miss the suspicious conversations.
Here is how to use WhatsApp Web to view your husband's conversations:
Go to the WhatsApp Web website from your computer.
Open WhatsApp on his phone, tap three dots on the top-right corner. Then tap Linked device > Link a device.

Use your spouse's phone to scan the QR code.
Then, it will load the existing conversation on WhatsApp. Wait for a while until they are fully loaded.
Wrapping Up
Now, you know how to catch a cheating husband on WhatsApp with the easy ways. KidsGuard for WhatsApp is the most effective way to find out who your spouse is talking to. Moreover, it provides you with evidence of his unfaithfulness so that you can protect yourself. Try it today to find out the truth!