Keylogger have become an essential tool for various purposes, It is widely emloyed for ensuring kid's safty, supervising employee activities, and other valuable use cases.
With numerous keyloggers available in the market, it can be challenging to find the best one for your needs. In this comprehensive guide, we will discuss the 8 best keylogger for Mac, their features, and how they can benefit you.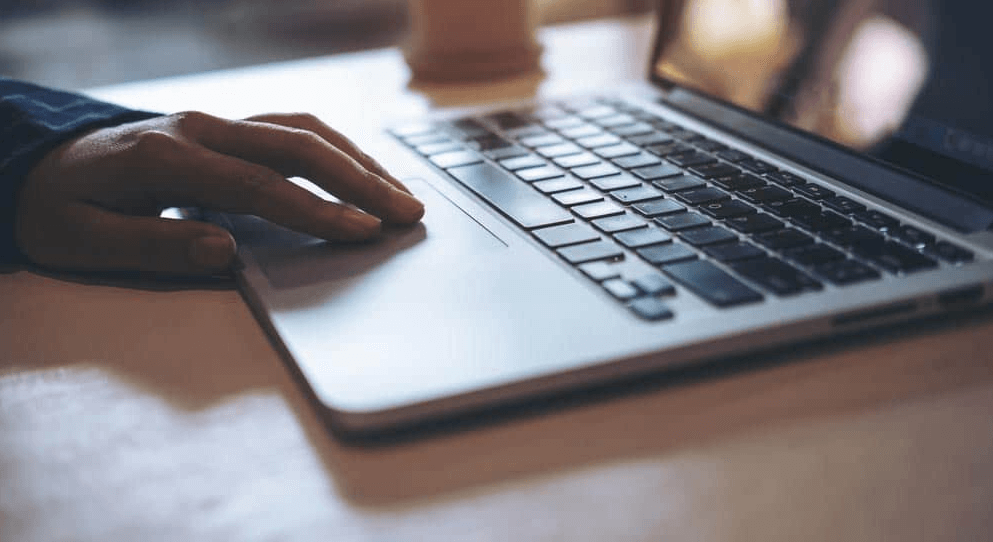 Part 1. Why Use a Keylogger for Mac?
There are several reasons why you might want to use a keylogger for Mac. Some of the most common include:
1Safeguarding Children Online
Keyloggers can be a valuable tool for parents seeking to protect their children while they explore the online world. By monitoring keystrokes, parents can gain visibility into their child's social media interactions, websites visited, and applications used, enabling them to ensure their safety and well-being.
2Enhancing Workforce Oversight
Employers can employ keyloggers as a means of monitoring employee activities and enhancing overall workforce management. By capturing keystrokes, keyloggers provide valuable insights into employee productivity, helping businesses identify areas for improvement, optimize workflow, and ensure appropriate usage of company resources.
3Preserving Personal Data Privacy
In the realm of personal data security, keyloggers can play a crucial role in safeguarding sensitive information, particularly when sharing a computer with others. By monitoring keystrokes, individuals can ensure that unauthorized access to personal data is prevented, allowing them to maintain control over their privacy and protect valuable information.
Top 8 Best Keylogger for Mac in 2023
We have researched and compiled a list of the top 8 best keyloggers for Mac, including a description of their benefits, to help you make an informed decision.
1Spyrix Keylogger for Mac
Spyrix Keylogger for Mac is our first top choice for those seeking a powerful and feature-rich keylogger solution. It offers a range of tracking and monitoring features for both personal and professional use.
Spyrix is praised for its live viewing and webcam recording capabilities, setting it apart from other keyloggers. This allows you to monitor activities in real-time, ensuring maximum security and peace of mind.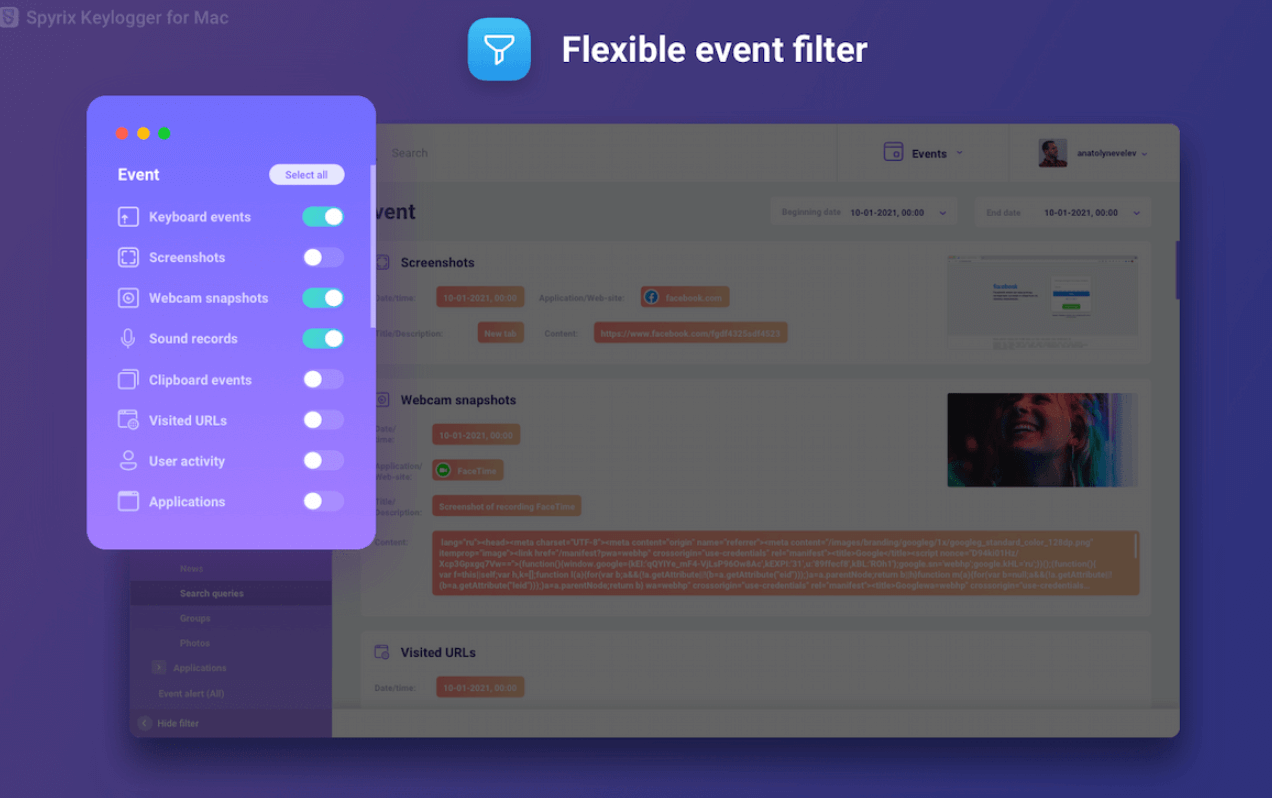 2Refog Keylogger for Mac
Refog Keylogger for Mac is a user-friendly and efficient keylogger designed for home and personal use. It offers essential monitoring features, making it a solid choice for parents looking to keep tabs on their children's online activities.
Refog is easy to install and use, making it an excellent option for those new to keyloggers. It runs undetectably and is password-protected for added security.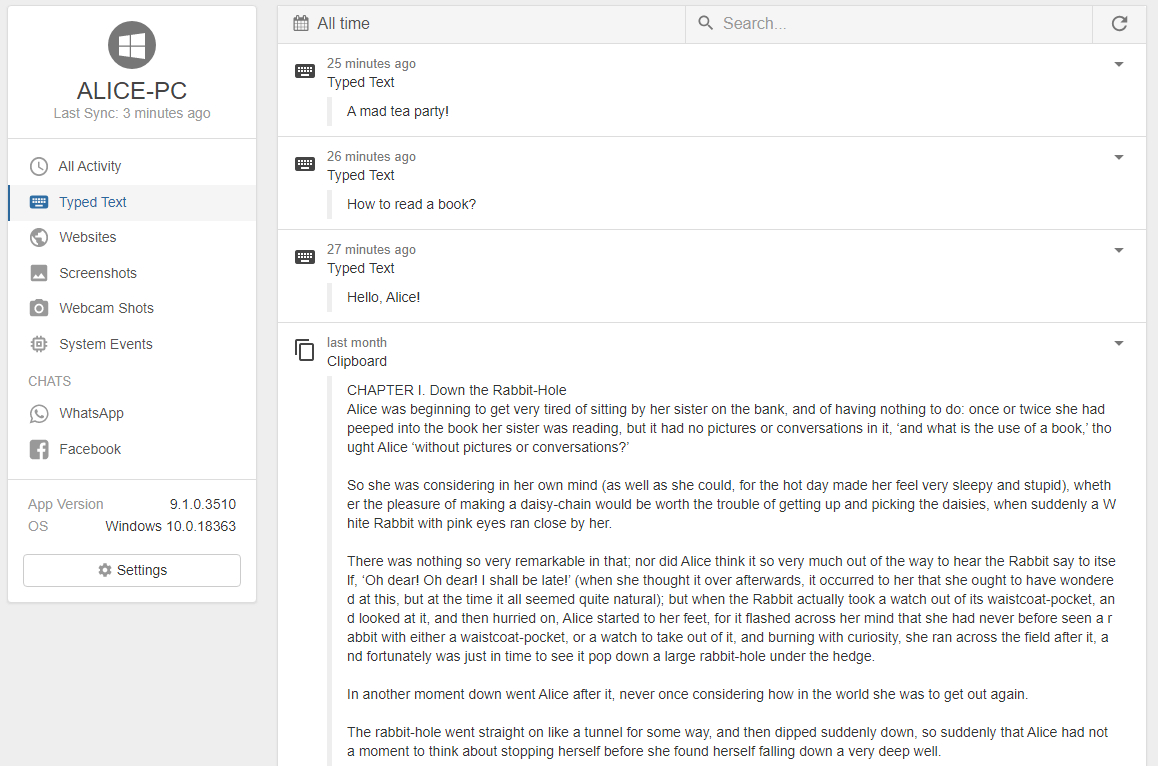 3Elite Keylogger for Mac
Elite Keylogger for Mac is a popular and reliable keylogger offering both free and paid versions. It provides essential monitoring features, ensuring that you can keep track of computer usage effectively.
Elite Keylogger is known for its user-friendly interface and unique protection technology, making it a top contender in the keylogger market.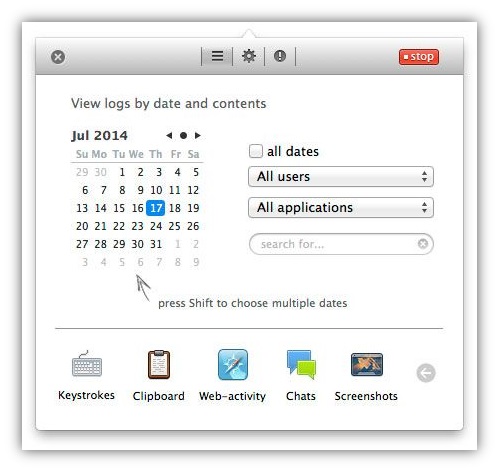 4Clever Control for Mac
Clever Control for Mac is a powerful keylogger designed primarily for employee monitoring. It offers a comprehensive set of features to help businesses track employee performance and optimize workflow.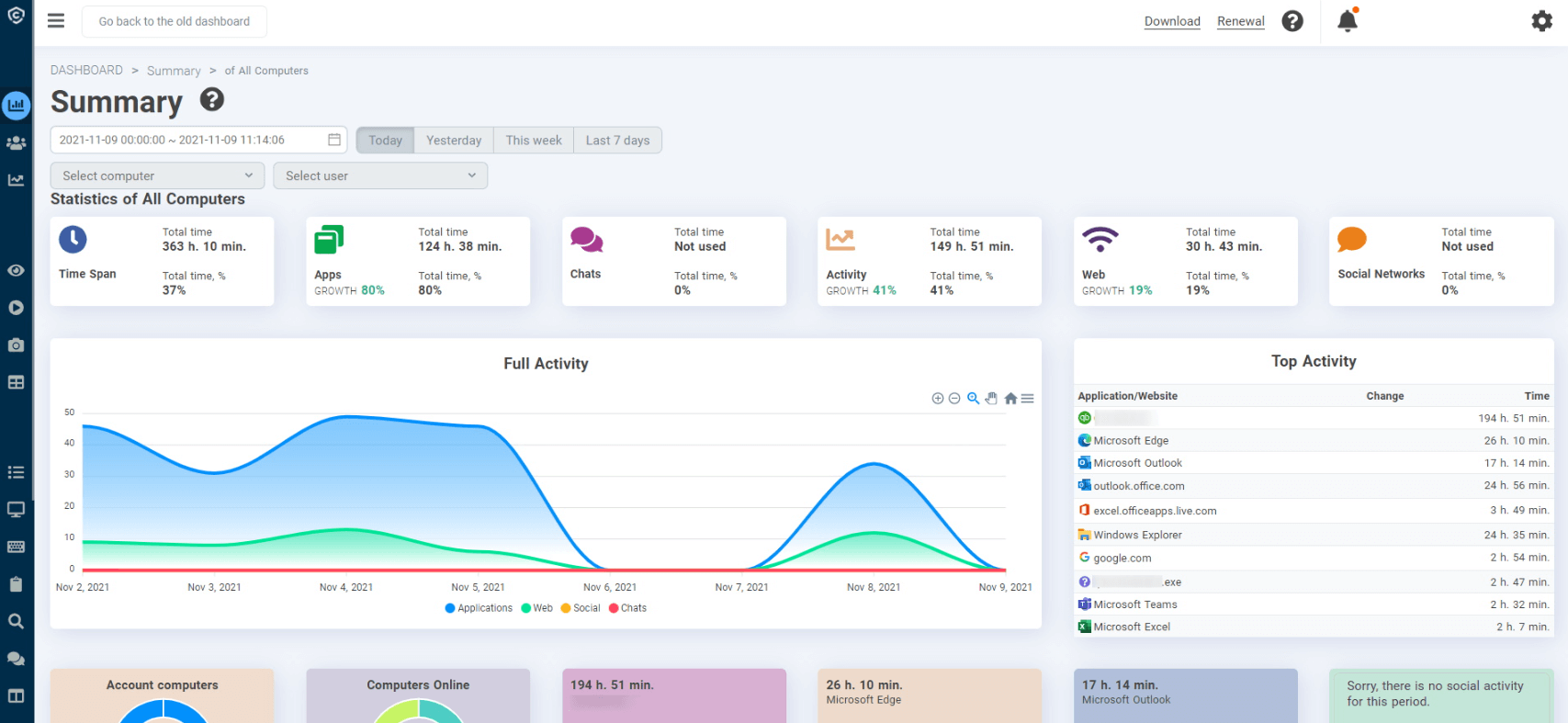 5Actual Keylogger for Mac
Actual Keylogger for Mac offers a robust set of features at an attractive price point. Its capabilities rival those of its top competitors, making it an excellent choice for those seeking a budget-friendly option:
Actual Keylogger's secure account and customizable log delivery options make it a favorite among users seeking a versatile and affordable keylogger solution.
Clever Control's user-friendly interface and remote monitoring capabilities make it an excellent choice for businesses looking to improve productivity and security.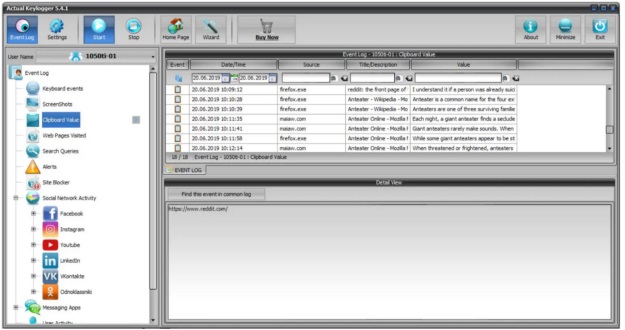 6KidInspector for Mac
KidInspector for Mac is a parental monitoring keylogger designed specifically for keeping an eye on children's computer activities. It offers a range of features to help parents ensure their child's online safety.
KidInspector's remote monitoring and online account management make it a convenient and effective solution for concerned parents.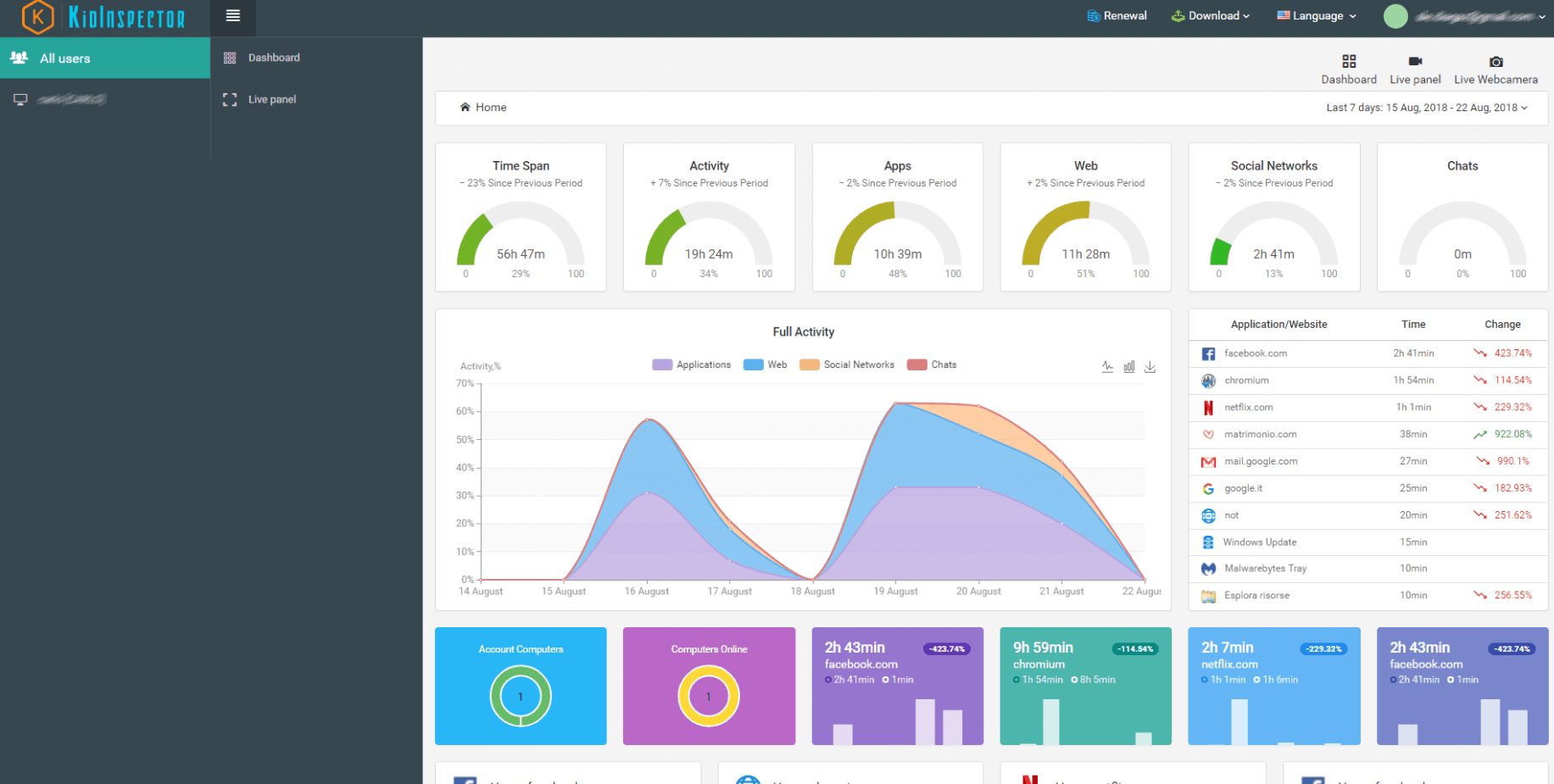 7MacKeylogger
MacKeylogge is a versatile keylogger suitable for a variety of purposes, from personal to business use. It offers centralized monitoring via an online account, providing users with easy access to collected data.
MacKeylogger's unlimited data storage and multiple user monitoring capabilities make it a popular choice for those seeking a comprehensive monitoring solution.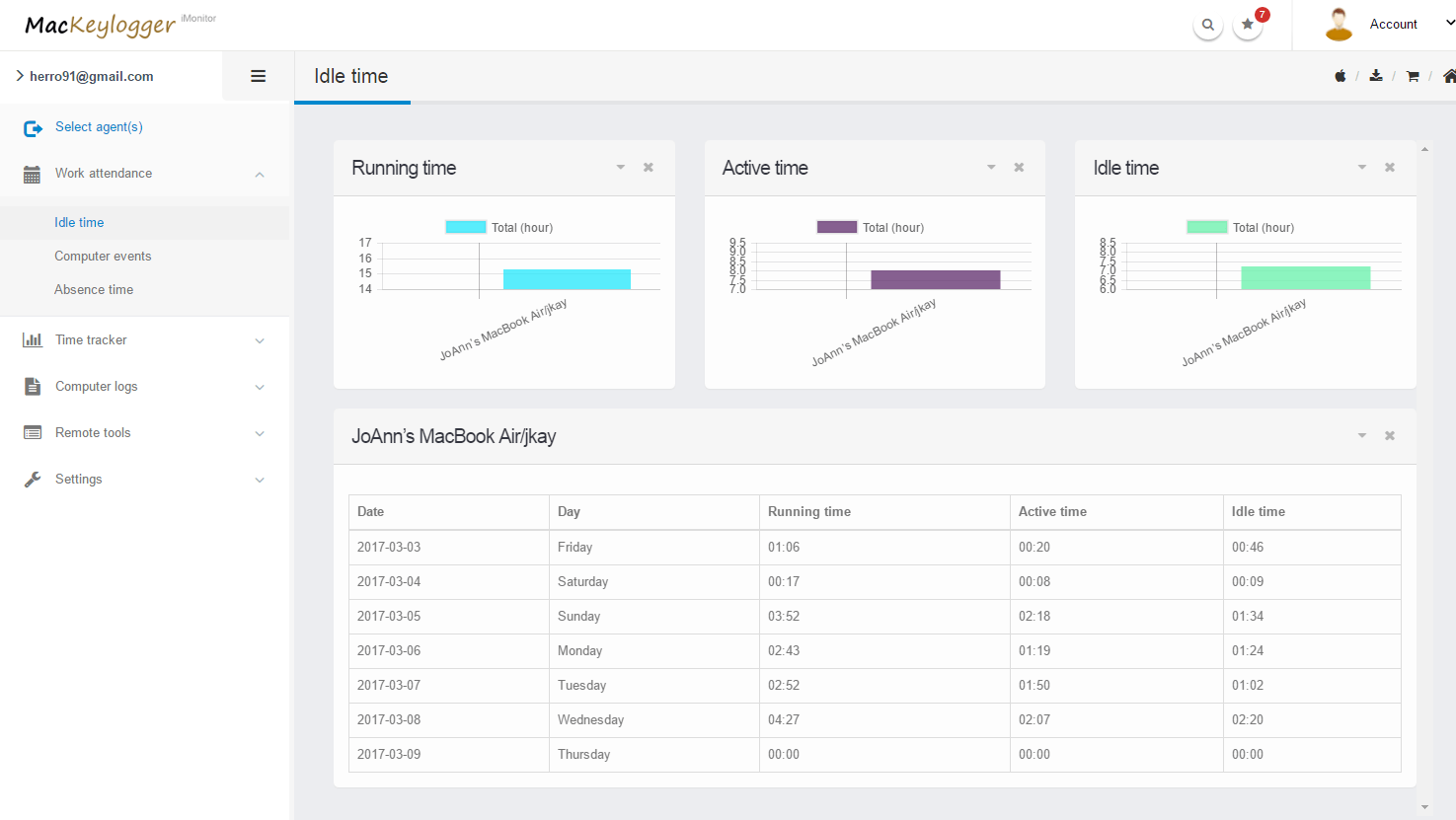 8Perfect Keylogger for Mac
Perfect Keylogger for Mac claims to be an ideal solution for concerned parents, suspicious spouses, and anyone who needs to monitor computer usage. While it offers a full set of monitoring features, it lacks live monitoring capabilities.
Perfect Keylogger's compatibility with the latest macOS updates and user-friendly experience make it a solid choice for those seeking an easy-to-use monitoring solution.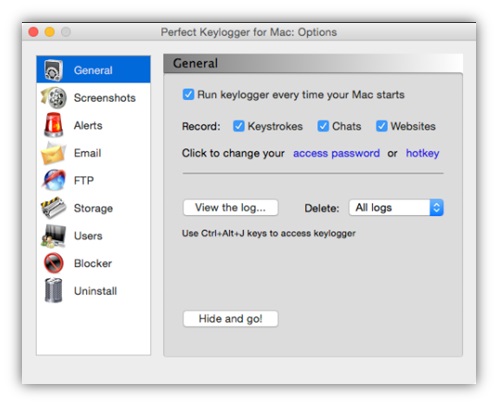 Bonus: Best Keylogger for Windows-MoniVisor
While the mentioned keyloggers are compatible with Mac, installing them on a Mac can be a bit more challenging due to its complex security system. Apart from Mac, Windows is the most common operating system, with billions of users. If you are using Windows PC at home and are looking for a keylogger, I would like to introduce you to the best keylogger for Windows - MoniVisor for Win.
MoniVisor for Wins is a powerful and versatile keylogger designed for comprehensive monitoring and tracking of Windows computers. With an array of features such as keylogging and social media chats monitoring. MoniVisor is suitable for parental control, employee monitoring, and personal data security.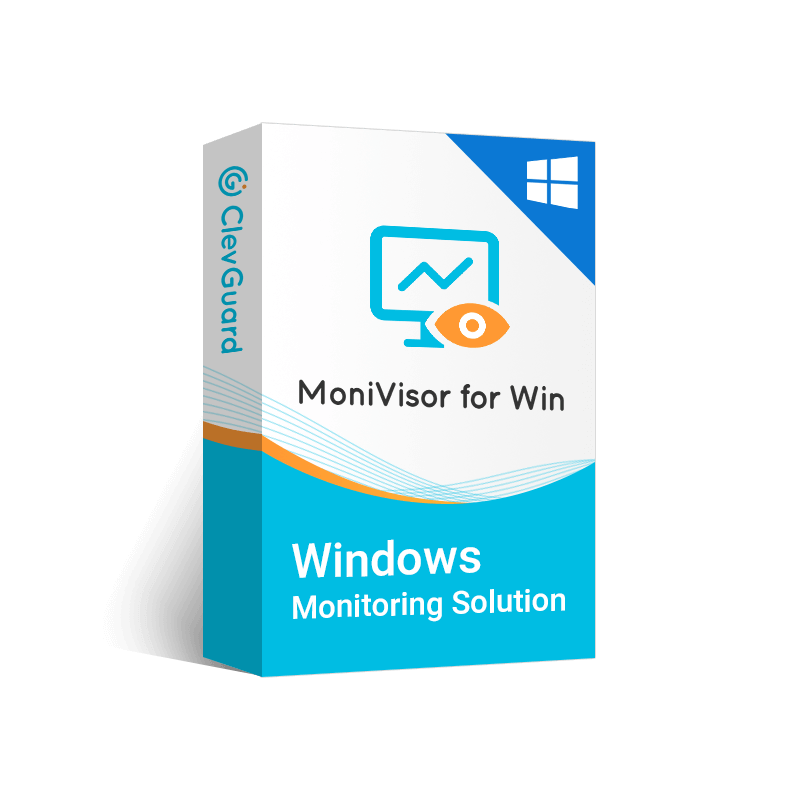 Best Keylogger for Win-MoniVisor
Keystroke recording: you can see what the user is typing even the lines that he deletes or types in incognito mode.
Social media activity monitoring: you can monitor Whatsapp, Facebook (Messenger), Twitter, Skype.
Mail monitoring: you can remotely view all details(including email content, attachments, and timestamps) of the Gmail, Email, Yahoo mail received or sent on the computer in real-time.
Auto-screenshot of computer system screen silently.
App activity tracking. Exactly know the last use time of a specific app.
Easy installation. Only 5 minutes to achieve keystroke logging and computer monitoring.
The steps to use MoniVisor are super easy. Only 5 minutes can start computer monitoring.
How to Choose the Best Keylogger
When selecting a keylogger, it is essential to carefully consider several factors to ensure you choose the most suitable option for your needs. Here are some important considerations to keep in mind:
Undetectable and Hidden: The keylogger should operate discreetly, ensuring that the target user remains unaware of the monitoring activities.
Easy Installation: Look for a keylogger that requires no complex processes to make the installation process quick and smooth.
Powerful Features: A keylogger with a comprehensive set of features will provide more value and versatility than one with limited capabilities.
Easy Installation: Look for a keylogger that requires no complex processes to make the installation process quick and smooth.
Pricing: Consider your budget and whether a free or paid keylogger is the best option for your needs.
Conclusion
A keylogger for Mac can be a valuable tool for monitoring computer usage and ensuring data security. By understanding the features and capabilities of the above 8 top keyloggers for Mac, you can make an informed decision and choose the best solution for your needs. But if you were also wondering about keylogging on Windows, then you do not have to choose. We have the best solution for you: MoniVisor for Win. And the MoniVisor for Mac is coming soon, we encourage you to stay tuned for its release!