What is phone cloning, and how to clone a cell phone? Phone cloning is copying the data and identity details from one phone to another. As the security measures of all phone devices and networks are evolving and becoming more advanced, it is becoming difficult to clone your identifiers and intercept your data. However, there are situations when you want to find out how to clone a cell phone because you have bought a new phone or your phone is stolen or locked. Also, people want to know how to clone a cell phone to see text messages, so that we will cover all these topics in this article.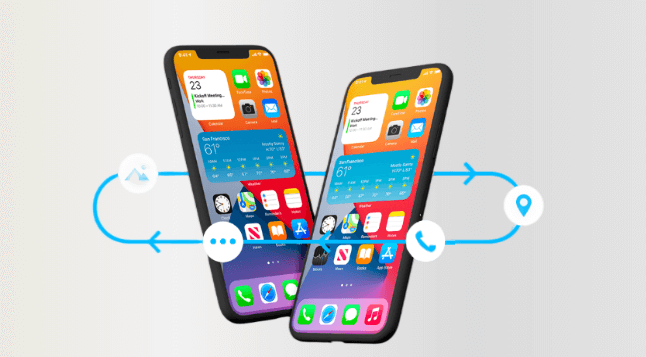 Part 1: How to Clone a Cell Phone with iCloud/iTunes?
Apple devices are known as the most robust and secure because they have a built-in backup, security, and locking mechanisms. So, when you want to clone a cell phone from Apple, it is easy to use Apple's iCloud and iTunes backups. Let us find out how to clone a cell phone using iCloud and iTunes.
1iCloud
iCloud gives you 5GB storage where you can periodically and automatically back up your phone data like contacts, SMS, pictures, etc. You can use this backup to clone your iPhone and use it to solve the issue of cloning a cell phone to see text messages, images, SMS, etc. So, when you want to clone your old phone's data to the new iPhone, here is how you go: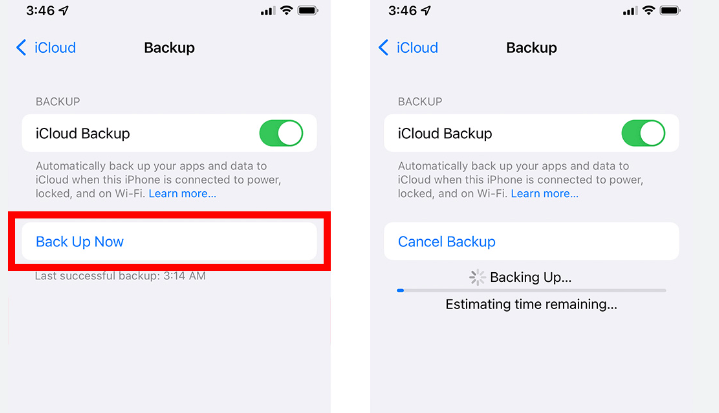 Turn on your new device and follow the instructions to the App & Data screen.
Choose "Restore from iCloud Backup" and sign in using your Apple ID and password.
Choose your latest or the most appropriate backup.
That's it; your iPhone data is cloned to your new cell phone.
1iTunes
Another backup option for iPhones is iTunes backup. So, how to clone a cell phone using iTunes? You can clone your iPhone with iTunes using your computer. You can back up both your phones and settings, and it takes less time to clone your iPhone in a shorter time than iCloud backup.
You must have a backup on the iTunes library, or you can make a quick backup from your old iOS device. Let us go through the whole process.
To clone a cell phone using iTunes, you need to connect your old iPhone to your computer and launch your iTunes.
Click on the Device icon>Summary>Back up Now link.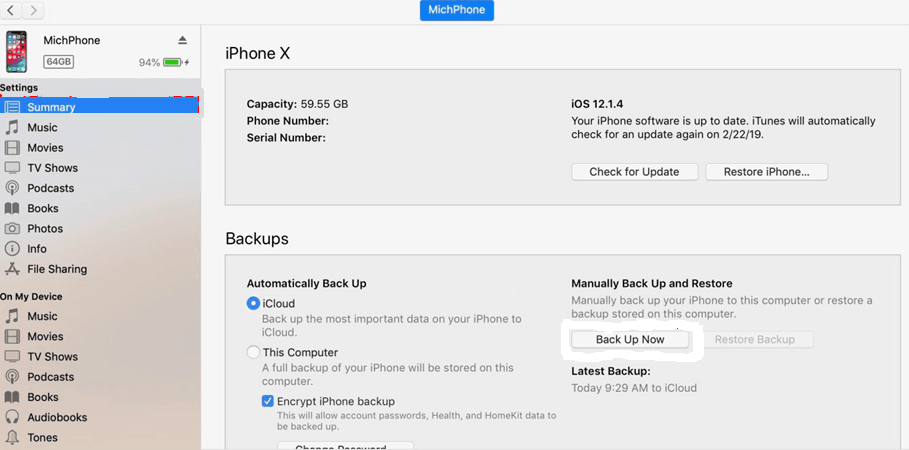 The next and main step of cloning a cell phone using iTunes is restoring the backup. Here is how it goes:
Connect your new iPhone to your computer.
Launch iTunes and select your device. Click on the Summary>Restore Backup link.

Choose the appropriate backup and click the Restore button.
Part 2: How to Clone a Cell Phone with Cloneit
Cloneit is a third-party application to transfer your phone's data, including messages, app data, saved identity passwords, browser history, calendar, photos, bookmarks, etc., to another phone. You can use it to clone a cell phone to see text messages and other data. It is available for Android devices. This app is available on Google Play for download.
It is very easy to use and takes a few clicks to clone a cell phone. Following is a detailed tutorial on cloning a cell phone using Cloneit.
Download and install the Cloneit app on your old and new phones.
On the new device, go to the Settings menu and turn on the installation option from unknown sources. Also, go to the Accessibility menu and turn on the option of Auto installation.

Start the Cloneit application on both devices to start cloning your cell phone. Select the sender and receiver phone. Tapping on the "Sender" on the source device will make it a hotspot in a few moments.
On the target device, connect the device to the new network.
When both devices are connected to the same network, when you receive a connection request on the target device, click "OK."
Select the data you want to clone on the new phone and click the "Start" button.

Wait until the Cloneit app clones your cell phone from the source to the target device. Ensure both devices are close enough to use the hotspot to avoid disconnection.
Part 3: Bonus-Tip: How to Clone an iPhone Without Someone Knowing
Sometimes you want to know how to clone a cell phone secretly for different reasons, like you want to monitor your child's activities to keep them safe from online bullying, blackmailing, and cyber fraud. So, the question arises: how to clone a cell phone to see text messages, call logs, WhatsApp, and other activities without someone knowing?
We recommend using KidsGuard Pro to clone an iPhone without someone knowing because it is a safe, professional, and reliable parental control application. This application is available for both iPhone and Android and has a comprehensive list of features to make monitoring your kids' phones easily.
Though other applications are available for monitoring iPhones, most require you to jailbreak your iPhone, which compromises your phone's worth. However, KidsGuard Pro for iOS allows you to clone a cell phone without jailbreaking. Here are some features of KidsGuard Pro: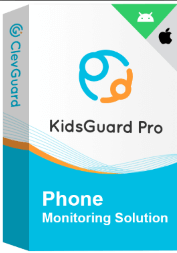 Features
Real-time Data Cloning: KidsGuard Pro allows you to clone and back up various types of data from the target iPhone, including text messages, call logs, contacts, photos, videos, and more.
GPS Location Tracking: With KidsGuard Pro, you can track the real-time GPS location of the target iPhone.
Web Browsing History: KidsGuard Pro lets you access the browsing history of the target iPhone, giving you insights into the websites visited and the frequency of visits.
Call and Text Message Monitoring: This feature allows you to view incoming and outgoing calls, as well as text messages, on the target iPhone.
Steps to use KidsGuard Pro to clone an iPhone without someone knowing:
Step 1: Open your browser and launch the official KidsGuard Pro site; you will sign up for an account using a valid email. Or click on the "Sign Up" Button below to create an ClevGuard account. Now, you can choose a suitable package.
Step 2:Download the application and install it on your computer. After the installation, connect the iPhone you want to clone to the computer. Click on Trust This Computer on the device when prompted. Now, sit back and wait till it extracts all data.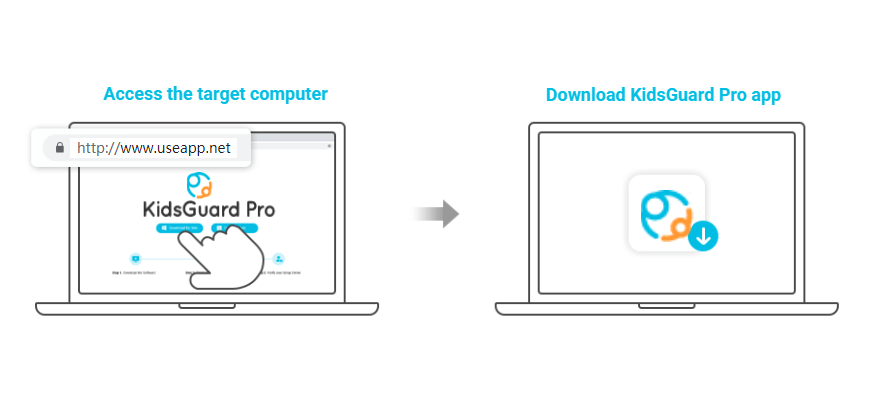 Step 3: Access the KidsGuard Pro for iOS dashboard and easily see all your target phone's cloned data. On the left-hand side menu bar, you can see various links for monitoring activities on the target phone.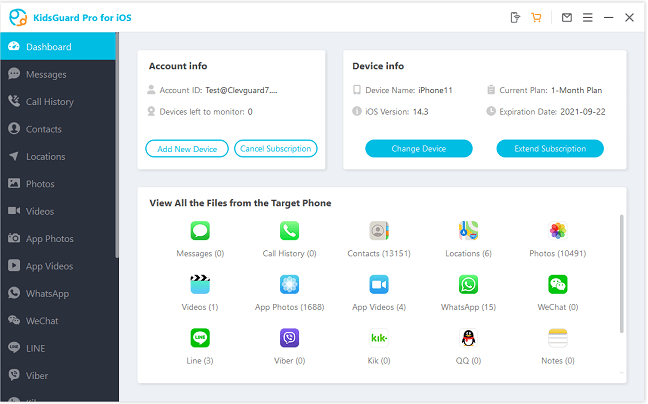 We have figured out how to clone a cell phone using different methods. You can choose one method depending on the situation and your requirements. KidsGuard Pro is a recommended application for cloning a cell phone to see text messages, call logs, social media interactions, geo-fencing, and much more. This is a far better option because it offers live monitoring and not a one-time backup. You can also view a demo of KidsGuard Pro here and see how it works.