The Internet has become a global and easily accessible medium of communication. However, this connection and ease of use come with challenges. Many parents are worried about who their children are talking with on WhatsApp all the time for fear of their safety. So, how to view someone else's WhatsApp call history and track WhatsApp messages? There are a few tricks that can let you know how to get WhatsApp call history and track WhatsApp Messages .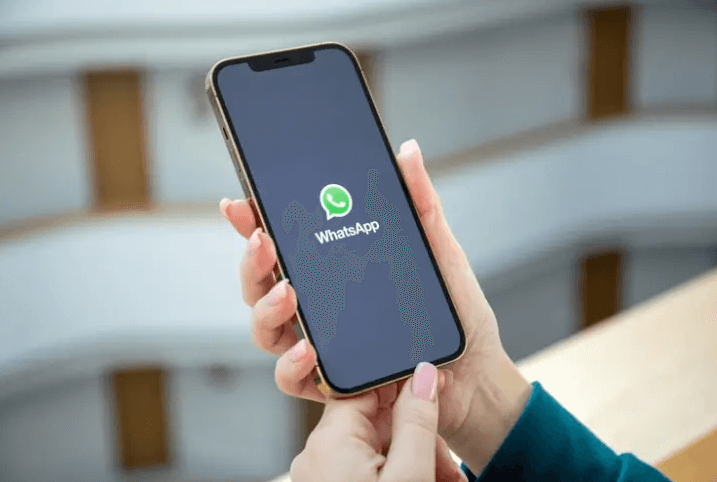 Part 1: Best Option To Track WhatsApp - KidsGuard for WhatsApp
The best option to track WhatApp and view someone else's WhatsApp call history is KidsGuard for WhatsApp software, which allows you to track all WhatsApp communications on the target phone without having physical access to the device. Let us look at the advantages of KidsGuard for WhatsApp.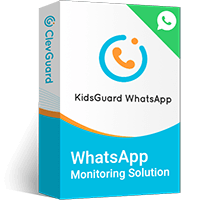 Features
You can view someone else's WhatsApp call history without any technical knowledge by using KidsGuard software.
It is easy to download and install and takes a few minutes, and you can see all data from your computer on the control panel.
If you want to know how to get WhatsApp call history and recover deleted WhatsApp messages, then KidsGuard for WhatsApp can help you.
There is also a feature to record WhatsApp calls for monitoring purposes.
It also provides keyword tracking to find specific messages.
You can also get live screenshots from the target phone to see what is happening there.
KidsGuard for WhatsApp is a parental control app that parents can track their kids' WhatsApp messages, see WhatsApp call history, view WhatsApp status, and record WhatsApp to ensure the safety of their kids' digital presence.
So, how to use KidsGuard for WhatsApp to track? Let us see a brief guide.
Step 1: Click the following button Try It Now to sign up on KidsGuard website.
Step 2: Access www.installapk.net through your browser on the target Android phone.And then download and install the application.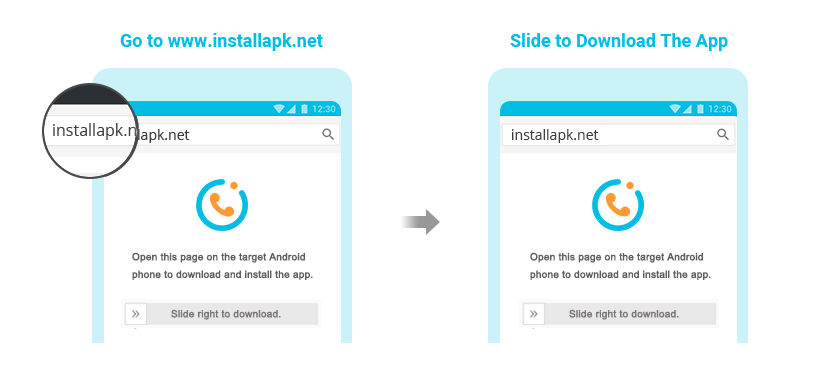 Step 3: After installation, sign in with your KidsGuard for WhatsApp account that you created on the website. And then completed the process according to the guide on the target phone.

Step 4: After completing installation and configuration on the target device, click Verify Setup. When finalised and installed correctly, you' ll be automatically transferred to the KidsGuard for WhatsApp dashboard. Here, you can begin to monitor and track the collected WhatsApp data on the Android device.
Please note that initial synchronization may take some time. After this, you can monitor all WhatsApp activities on the website's control panel.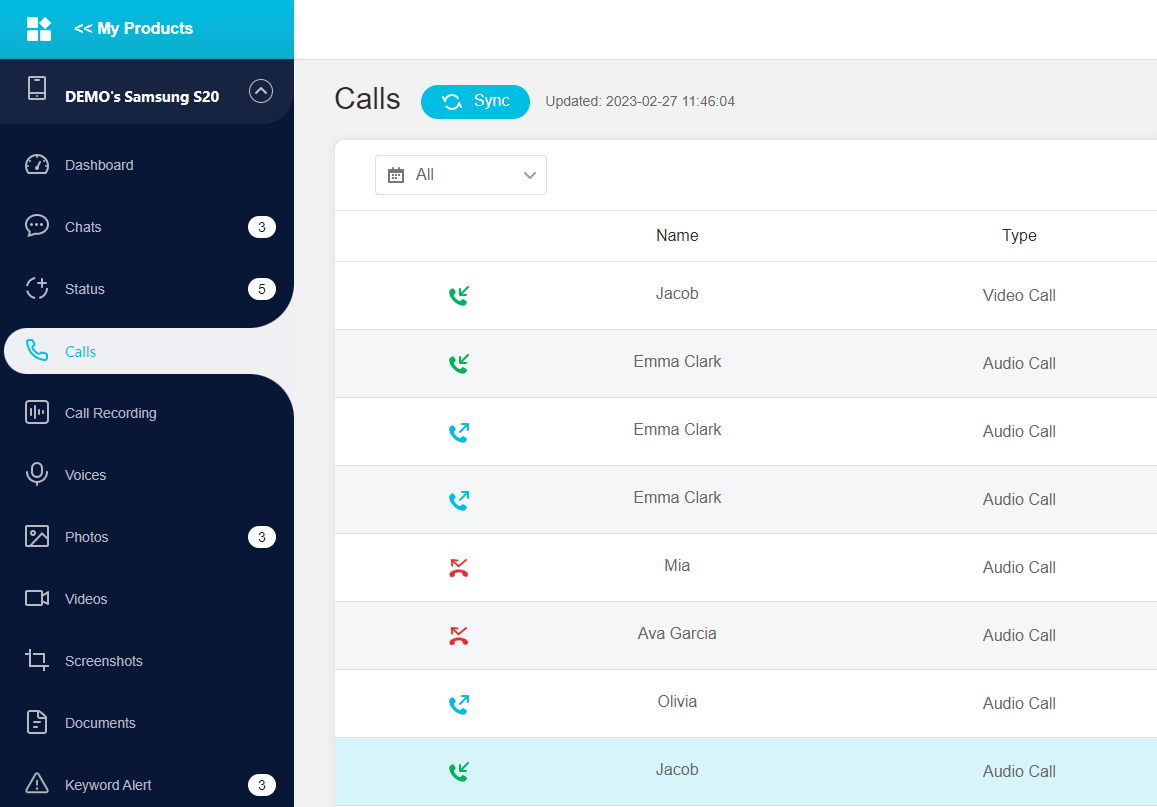 Part 2: Alternative Option To Track WhatsApp
Another application to track WhatsApp is mSpy. mSpy is a popular spying and monitoring tool that allows you to check SMS, call logs, emails, location history, geo-fencing, and WhatsApp. You can also check the browsing history on the target phone and monitor your child's online presence. Here are the pros and cons of mSpy: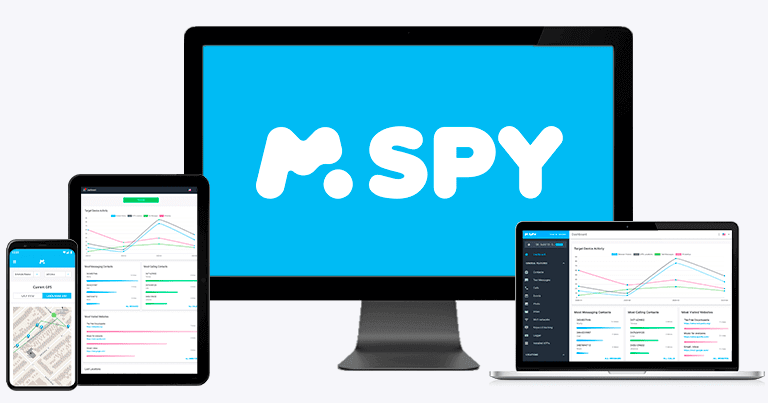 Part 3: Other Methods You Can Get Someone Else's WhatsApp Call History
Apart from using the software we mentioned above, you can also use some built-in backup mechanisms to figure out how to track WhatsApp and view someone else's WhatsApp call history.
1 Method 1:Restore Backup From Google Drive
When you own an Android phone and want to recover WhatsApp call history and messages along with media, then you can also use Google drive backup. However, it is important that you have already backed up your WhatsApp data on Google Drive. Also, this only works for restoring a backup to the user's phone, and it is impossible to view someone else's WhatsApp call history using this method.
If you want to restore a backup from Google Drive, the following is the step-by-step guide.
Uninstall WhatsApp from your Android phone.
Reinstall WhatsApp on your phone again.
Launch the WhatsApp messenger and click on "Agree and Continue" > "Allow" when prompted.
Register and verify your phone number.
You will see a prompt to restore your chats and media from Google Drive. Click "Restore" to recover WhatsApp call logs.
Depending on the backup size, it will take some time to recover all WhatsApp data, including media from Google Drive.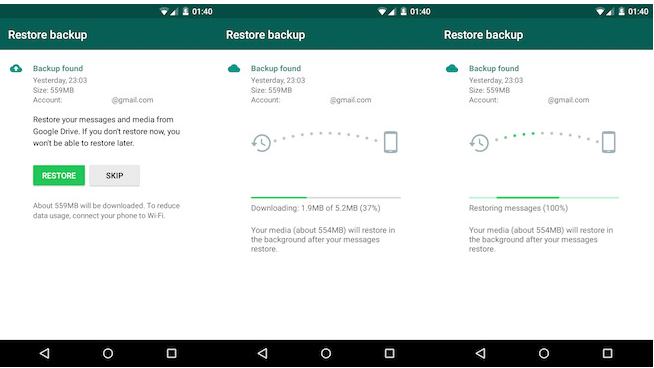 2 Method 2:Restore Backup From iCloud
iPhones have a built-in mechanism to back up phone data on iCloud, which can be recovered from anywhere using the Apple ID. Similarly, you can restore a backup from iCloud to track WhatsApp communications. It is important that you have already made a WhatsApp backup on iCloud. Here is the quick step-by-step procedure to restore your data.
You can check if your WhatsApp data is backed up on iCloud by going to WhatsApp messenger settings. If the backup is very old, then click the backup Now button.
Delete the WhatsApp messenger from your phone.
Reinstall WhatsApp and start it.
Follow the prompts to verify your number.
When you are prompted to restore data from iCloud, click on the Restore option.
Restoring your complete data on your iPhone will take a few minutes.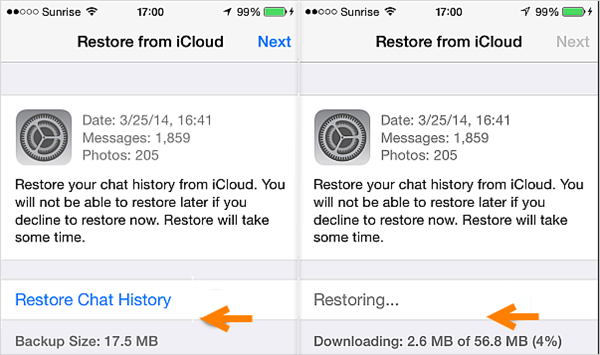 We have reviewed different methods to track WhatsApp and see someone else's WhatsApp call history, messages, and media exchange. Every method has its pros and cons, and you can choose the best option according to your situation. The best option for tracking WhatsApp comes out to be using the KidsGuard for WhatsApp . It is easy, safe, and reliable and can work in a stealth setting to monitor your child's phone without her knowledge. You can click the following button "View Demo" to review a working demo of KidsGuard for WhatsApp to see how it works.