In the world of mobile devices, being able to modify your virtual location can be a useful tool for various purposes. One popular software that offers this feature is 3uTools. However, users may encounter issues where the 3uTools virtual location is not working as expected.
In this article, we will explore the reasons behind this problem and provide solutions to fix it. Additionally, we will introduce an excellent alternative tool called ClevGo that can serve as a replacement for 3uTools VirtualLocation.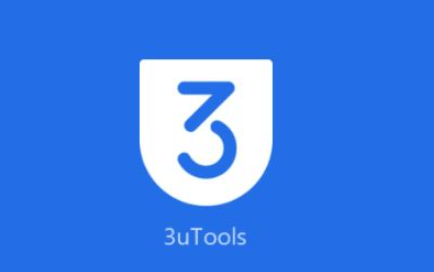 Part 1. Why is My 3uTools Virtual Location Not Working? Fixed
Understanding the underlying reasons for the 3uTools Virtual Location not working problem is crucial for finding effective solutions. Let's explore some common issues and their corresponding fixes.
1Connection Issues
One possible reason for 3uTools VirtualLocation not working is a failed connection. To troubleshoot this issue, ensure that your device has a stable and reliable internet connection. Without a proper connection, 3uTools cannot modify the virtual location successfully.
Solution: Check that your device is connected to a working network and try again.
2Incompatible iOS Version
Another potential problem is an incompatible iOS version. 3uTools may not support the specific version of iOS installed on your device.
Solution: To resolve this issue, verify that you are using a compatible iOS version that is supported by the latest version of 3uTools. Updating your iOS version or installing a compatible version of 3uTools may solve the problem.
3USB Connection Problems
Faulty USB cables or loose connections between your device and computer can also cause issues with 3uTools VirtualLocation.
Solution: Ensure that your device is securely connected to your computer using a functional USB cable. Check for any loose connections and try again.
4Security Software Interference
Sometimes, security software installed on your computer can interfere with 3uTools' ability to modify the virtual location.
Solution: Temporarily disable any security software, such as antivirus or firewall, and check if it resolves the issue. Remember to re-enable the security software after using 3uTools.
5System Compatibility
If your computer's operating system is not compatible with 3uTools, it may cause the virtual location feature to malfunction.
Solution: Check the system requirements of 3uTools and ensure that you are using a compatible version of Windows or macOS. Updating your operating system or using a different computer may help resolve the issue.
Part 2. The Best Alternative if 3uTools Virtual Location Not Working
If you are still experiencing difficulties with 3uTools VirtualLocation, an excellent alternative tool is ClevGo. ClevGo is a versatile location changer that allows you to spoof your GPS location on both iOS and Android devices. Let's explore some of the features that make ClevGo an ideal choice.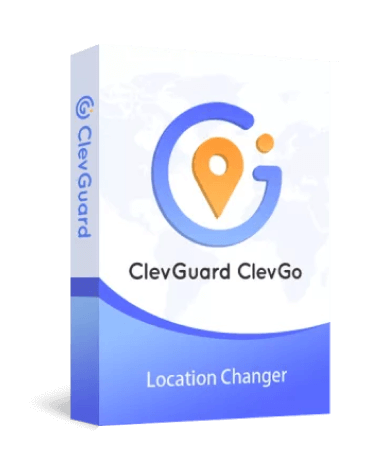 Features:
Easy Spoofing of GPS Location: ClevGo makes it incredibly easy to change your GPS location with just a few clicks. You can teleport your GPS anywhere around the world and share virtual locations on various social platforms like Facebook, WhatsApp, etc,.
Hide Location for Privacy: If you want to prevent someone from tracking your device, ClevGo can fake your location anywhere, ensuring your privacy and security.
Compatibility with Dating Apps: For those looking to change or spoof their GPS on dating apps, ClevGo is the perfect tool. It enables you to modify your location to match more friends on dating apps like Snapchat,Tinder and Grindr.
Simulate GPS Movement with Customized Routes: With ClevGo, you can plan a route, adjust the speed, and control the direction of your simulated movement. This feature is particularly useful for AR games like Pokemon GO that require physical movement.
To use ClevGo to spoof location on iOS and Android, follow these simple steps :
Step 1: Download and install ClevGo on your conputer. Connect your device to the computer.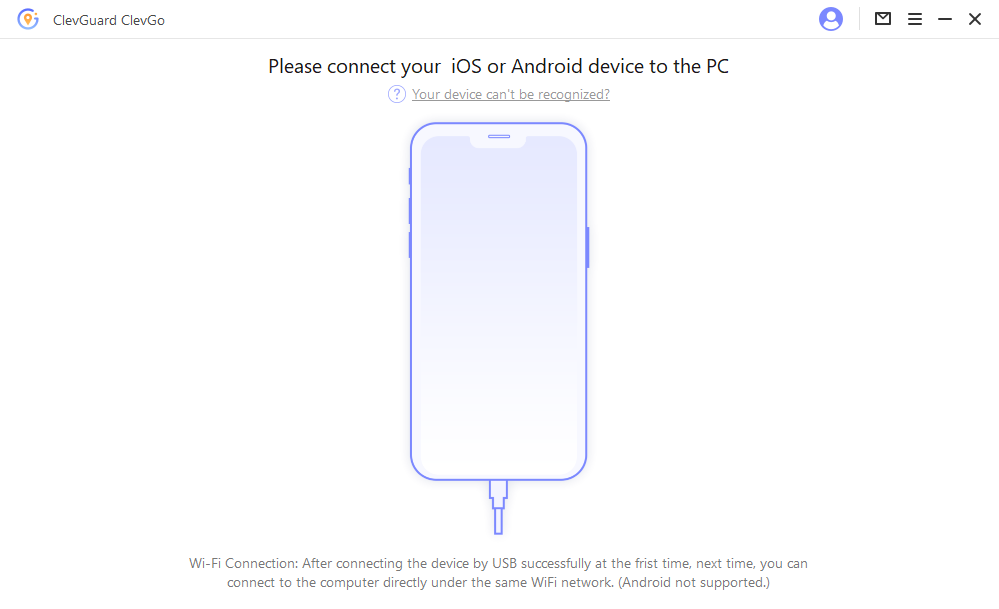 Step 2: Launch ClevGo and select "Teleport Mode" or "Two-spot Mode" on the right corner of the application interface.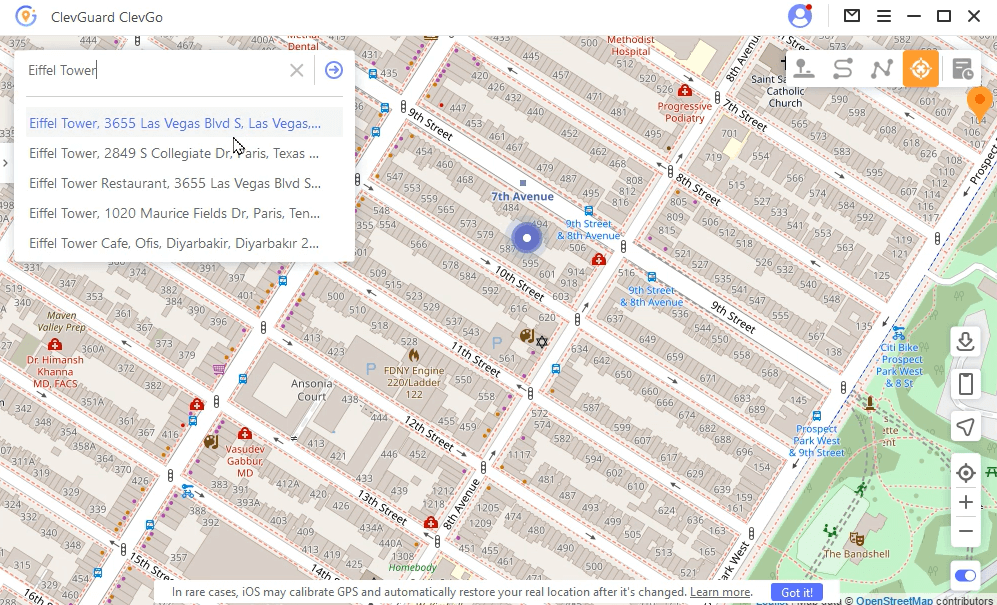 Step 3: Choose a location on the map or plan a route. Then click "Move" to change your location instantly.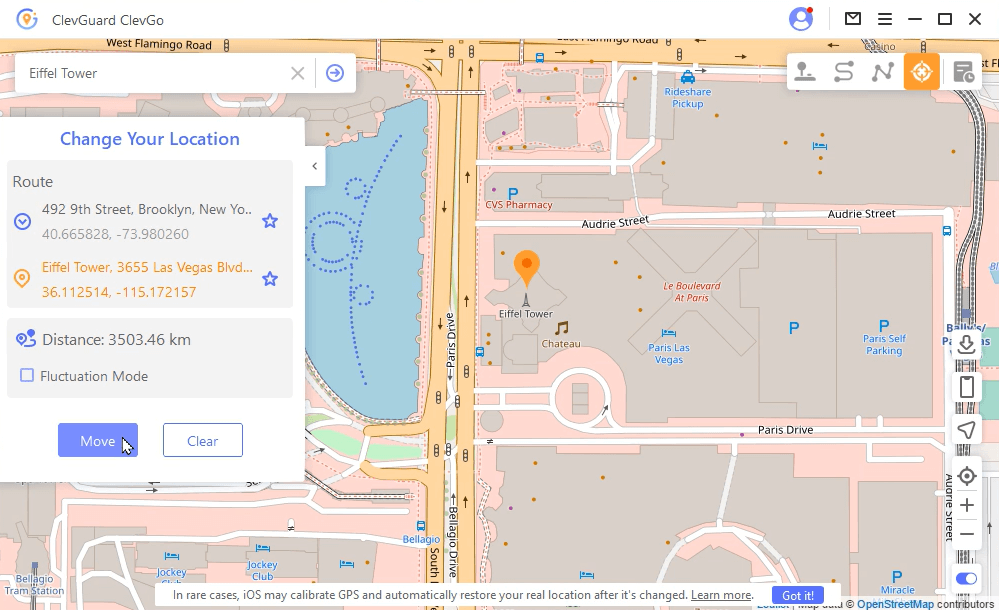 Part3: FAQs
1. Does 3uTools Virtual Location work on iOS 16?
Yes, 3uTools Virtual Location is compatible with iOS 16. You can use it to change your virtual location on devices running iOS 16 or later versions.
2. Why does 3uTools fail to modify location with error code 16?
Error code 16 in 3uTools usually indicates a problem with the internet connection. Make sure your device is connected to a stable network and try again.
3. Is 3uTools Virtual Location free?
Yes, 3uTools VirtualLocation is a free feature included in the 3uTools software. However, keep in mind that some advanced features or additional tools within 3uTools may require a paid subscription or purchase.
4. How long does the virtual location last?
The duration of a virtual location change depends on the settings and preferences you choose. With ClevGo, you have full control over the duration of your spoofed location. You can change it back to the real location at any time or set a specific time for the virtual location to revert automatically.
Changing your virtual location can be a valuable tool for various purposes. If you encounter the "3uTools Virtual Location not working" problem, try the troubleshooting solutions provided. Alternatively, consider using ClevGo as an excellent and reliable alternative to modify your GPS location seamlessly. With its user-friendly interface and powerful features, ClevGo will meet all your location-changing needs. Enjoy exploring the world virtually and accessing geo-specific services effortlessly.