WhatsApp is the most popular messaging app across over 100 countries. Users who interact using WhatsApp can share messages, photos, videos, and much more with their loved ones. And some users are wondering how to track someone else's WhatsApp. They wonder if their kids are suffering from cyberbully, if their spouse is faithful to them.
If you're one of those 2 billion users seeking real answers for how to track someone's WhatsApp, you're in luck as we're going to share genuine and easy ways to help you in this spying game.
Part 1. Is It Possible to Track Someone on WhatsApp?
Absolutely, WhatsApp allows you to follow a person's location in real-time or track WhatsApp messages. Also, it's possible to get someone's WhatsApp chat history.
You can utilize WhatsApp's built-in Share Location feature to broadcast their current location to contacts or an entire group.
WhatsApp web helps to track WhatsApp messages.
Other specialized tools help to monitor all the activity on WhatsApp online.
Part 2. Track Someone's Live Location on WhatsApp
The easiest way to track someone's location is by asking them to share their live location. The "share location" feature of WhatsApp not only helps you ensure the safety of your loved ones but also keeps you from wasting your time trying extreme measures.
Additionally, if you're trying to keep track of your 12–17-year-old children's activities, the "WhatsApp share location" feature can lend you a hand.
Steps to Use WhatsApp Live Location:
Open WhatsApp and navigate to the chat with the individual with whom you want to share your location. The same holds for interactions between members of the same group.
Under Location in the attach button, select Share Live Location. Choose how long you want to share and tap send.

Your contact will now get a message including a map displaying your present location, which will be continuously updated for the time you previously defined.
If the request is sent to a group chat, then all participants will be able to view the position. Additionally, you can stop sharing your location at any time.
Part 3. How to Track Others' WhatsApp Messages with WhatsApp Web
Using Live Location feature, you can track someone's real-time location with WhatsApp. But when come to track other's WhatsApp messages, it can be a little tricky.
However, the WhatsApp web can help you. Meta (at the time Facebook) created WhatsApp Web to lessen the dependency of needing only one device to view WhatsApp messages. The main features of WhatsApp Web are listed as follows:
It shares the same functionality as the WhatsApp application on your Android or iPhone mobile device. But the only downsides are that WhatsApp web is compatible with PC only, and setting up an account requires access from the original WhatsApp account.
Steps to Track WhatsApp Messages via WhatsApp Web
Launch WhatsApp on the target smartphone, then select Menu > Linked devices > LINK A DEVICE.

Enter your PIN. On the Scan QR Code page, tap OK.

Visit https://web.whatsapp.com/ on your computer. Scan the QR code with the target phone.
Now you can view all the messages sent and received on WhatsApp on the phone.
Lastly, you should know that a "log out of all browsers" option is available in the mobile version of WhatsApp. If the target logs out, you won't be able to keep an eye on their activity any longer. In addition, there is always a notification bar that alerts the recipient's phone that it has been linked to WhatsApp Web.
Part 4. How to Track Other's All WhatsApp Activity
If you're highly conscious about your loved one's safety and seeking all-in-one solution to prevent cyberbullying and other online threats, you should try KidsGuard for WhatsApp.
It's easy and convenient to monitor someone's WhatsApp activities. This tool is extremely simple to use and operates silently in the background of the target device. Moreover, it will send real-time data to your dashboard to let you track target device's WhatsApp activity online.
It has a demo for users. You can see how it works before you try it.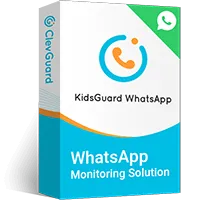 Why Choose KidsGuard for WhatsApp:
View all WhatsApp chats including detailed date and time.
View all WhatsApp call history and listen to call recordings.
Access and download WhatsApp multimedia files (including voice messages)
Automatically take screenshots of WhatsApp.
Set screen time limit and keywords alert for WhatsApp.
Steps to Use KidsGuard to Track Others' WhatsApp Activities
Step 1. Create an account.

Click the Sign Up button to register an account using your email address. After that, get a license to use KidsGuard for WhatsApp.

Step 2. Install KidsGuard for WhatsApp app on the target device.

On the target phone, go to www.installapk.net to download the app. Then follow the on-screen instructions to complete the configuration.

Step 3. Verify setup and start tracking WhatsApp.

Then go to clevguard.org, sign in to your account. From Member Center > My Products, click the dashboard of KidsGuard for WhatsApp, then click bind a device > Verify Setup. Then you can track all the WhatsApp activities from the dashboard.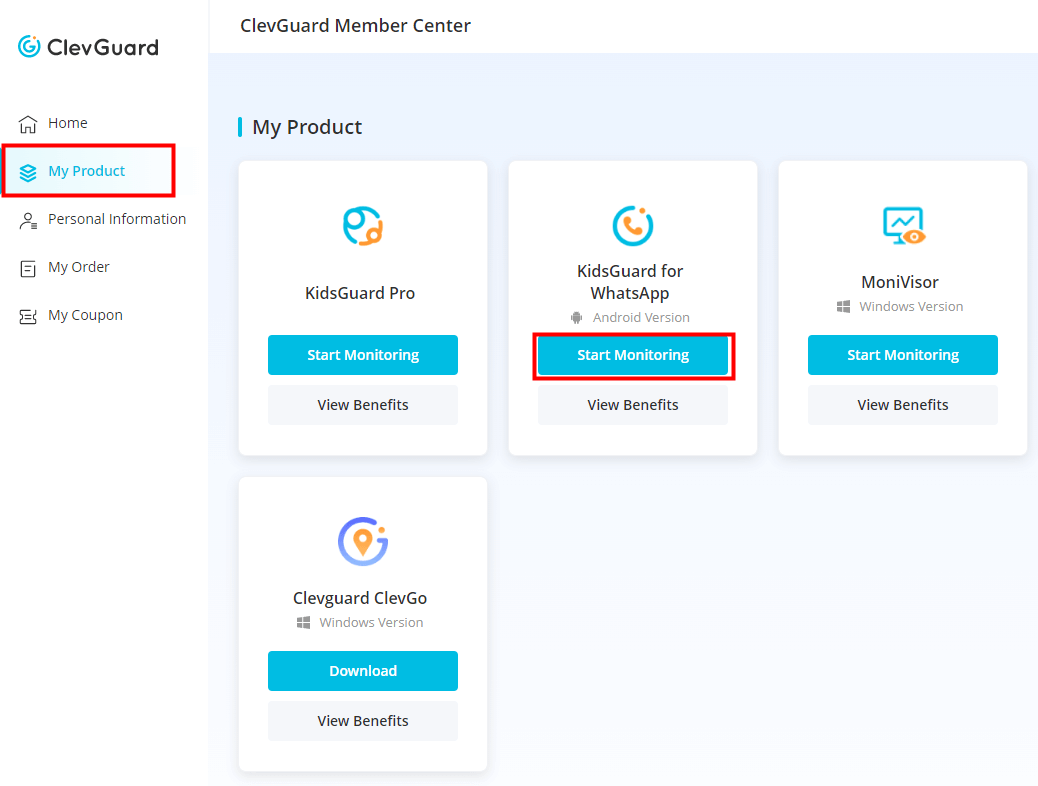 The Final Verdict
WhatsApp's provides features like "remote location sharing" and connection to "WhatsApp web" to help you track the WhatsApp accounts. But these features require permission from the target device.
If you are trying to spy on someone's WhatsApp data like your child, KidsGuard for WhatsApp can be your best pick. It does everything from reading messages to recording calls to keep you updated with the target's activities. Lastly, it is won't bother the user of the target device. Try it right now!