If you are worried about your kid or you suspect that your spouse is unfaithful, you might be wondering how to reach WhatsApp online status. This practice will show you how much time the user spends on the app and whether they are using it when they shouldn't.
Luckily, the WhatsApp online status check is an easy process if you have the right tool. Right now, you can find online tools and applications that give you a detailed report of the user's activity. In this article, you will discover the best WhatsApp online status tracker to keep an eye on the people you love the most.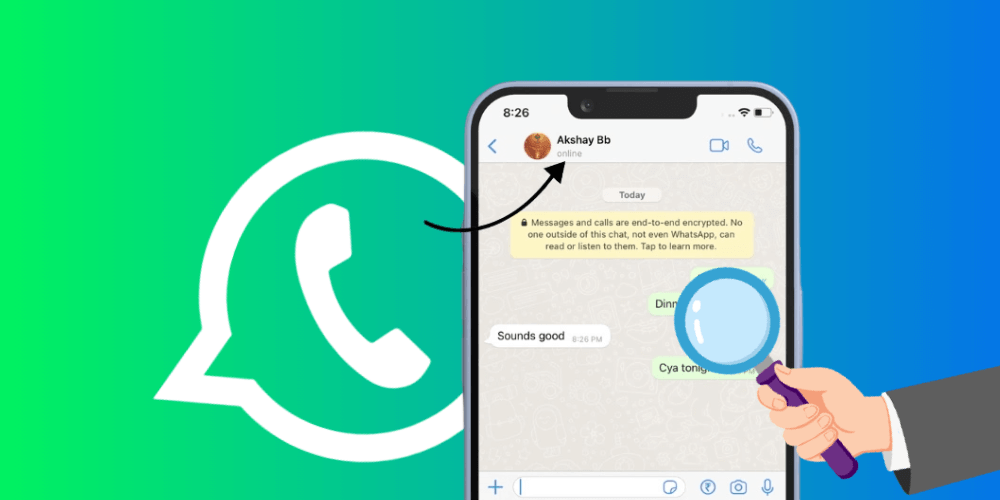 Part 1. Can We Track WhatsApp Online Status?
If you want to do a WhatsApp online status check, you are in luck as there are some ways to do it.
First of all, you can check if a user has been online on WhatsApp directly through the app. Launch WhatsApp and open your chat log. Below the user's name, you can view their online status, which might either be "online" or "last seen". If you see "online", then it means that they are currently using the app. If you see "last seen", you will see the exact time when they had last logged in on the messaging app.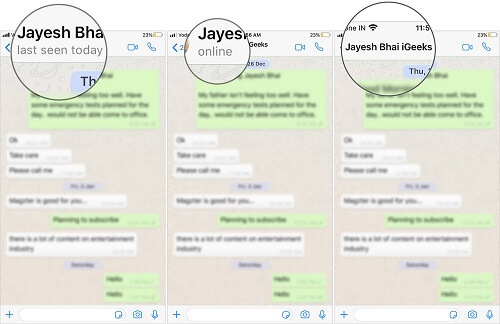 The other way to track WhatsApp online status is to use a monitoring tool. This type of application will notify you whenever the user becomes active on WhatsApp. Furthermore, it will provide you with additional features to check their activity.
Part 2. Why Can't I See Someone's Online/Last Seen Status?
However, you might notice that you can't see the online status of a contact on WhatsApp.
There are many reasons why a user's online status won't be displayed. The main ones are the following:
The users might have changed their WhatsApp settings so that they don't share this information,
You might have changed these privacy settings, a thing that will prevent you from seeing your contacts' online status,
The user might have blocked you, thus making this information invisible to you,
You or the user might not have added each other as contacts,
You might not have exchanged messages before, which would give you access to this information.
Part 3. Is There An App That Tells You When Someone Is Online on WhatsApp?
As we have briefly mentioned above, if a user's online status isn't shared with you, you won't be able to view it directly on the messaging app. Instead, you must get a WhatsApp online status tracker that can inform you when the user logs in to the app.
When you get an online status monitoring app, you will start getting notifications every time your kid or spouse becomes active on the app. Moreover, you will be able to view their chats, attachments, and calls so that you can protect them in the best way possible.
Part 4. Why Do You Need to Track Other's Online Status?
As a parent, there are many things that you need to worry about, in order to keep your child safe. When they get their first mobile devices, such as a smartphone or a tablet, they won't be able to resist using it even when they shouldn't.
First of all, your kids might be staying up until late at night chatting with their friends. This will prevent them from getting the sleep they need, which will affect their health. In addition to this, your children might be texting on WhatsApp instead of doing their homework or studying. This might lead to getting worse grades and make their school life harder.
Part 5. Track WhatsApp Online Status with KidsGuard for WhatsApp
All of the above reasons, prove that you must learn how to track WhatsApp online status. The most reliable way to do that is to use KidsGuard for WhatsApp, which is a tool dedicated to monitoring the account you want to keep an eye on.
This application can discretely spy on any WhatsApp account installed on an Android device. No matter the case, it will run in stealth mode, which ensures that the phone's user will not notice it.
And the greatest thing is that you won't need to know the WhatsApp password to gain access to its data. After the installation, you will check all the relevant information on the tool's dashboard.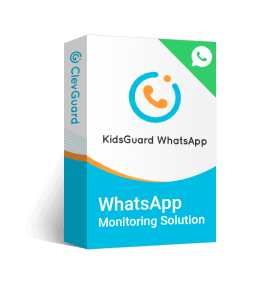 Key Features of KidsGuard for WhatsApp:
The chat and call logs are synchronized in real-time.
It allows you to view the messages that the users receive, take a look at the multimedia attached, and listen to their calls.
You can also get screenshots and recordings to use however you see fit to discipline your kids.
It will take only 3 minutes around to set up this app on the target device.
You can set screen time and keyword alert for your kids' WhatsApp.
The steps for using KidsGuard for WhatsApp to complete a WhatsApp online status check are the following:
Click the Sign Up button below to create your account.  Then purchase a plan you need.
Go to http://www.installapk.net to download KidsGuard for WhatsApp on the target device. Then complete the settings by following the on-screen instructions.

After that, sign in to your account on clevuard.org and go to My Product page, then click the Dashboard icon.

Then click bind a device and then Verify Setup. You will then be able to start check online status of the target WhatsApp account.
In Conclusion
Right now, your kid's WhatsApp online status check is easier than ever before. KidsGuard for WhatsApp is an app you can depend on to spy on your kids. This way, you can protect them if you notice that they spend too much time on the messaging app. Sign up for the tool to track your kid's online status today.